What are the Real Benefits of Coconut Oils for Hair Health and Beauty?
Coconut is a well-known organic component within the cosmetics industry recognised for its proven health benefits and for hair beauty. In this article, we explain what the real impacts are of using products that contain these oils, their characteristics, benefits and method of use.
The Trend of using Organic and Natural Oils on Hair
Treatment Products that rely on organic and natural oils have become increasingly famous in the cosmetics market. With greater access to information, consumers demand that products they use have real benefits from ingredients sourced directly from nature. Scientific research confirms that the use of natural and organic oils brings real advantages for health. In straightening and smoothing treatments, for example, the use of oils and extracts, such as coconut and argan, has become a must for high quality brands, as these complementary oils work to maintain health and to prolong and optimise the effects of the treatment.
The benefits of using coconut oil on hair
Coconut oil is the most famous natural organic component in the cosmetics market. With proven scientific benefits this powerful oil has been used for hundreds (perhaps thousands) of years by women to highlight hair beauty and preserve health. But why should you use coconut oil on your hair? What are the real advantages? Below, we list and explain each of the main benefits – and how to get them.
Coconut Oil main benefits:
Deep hydration
Preventing Hair Dryness
Slows Down and Prevents Hair Loss
Nourishes Dry and Damaged Scalp
Prevent Split Ends
Adds a Natural Lustre and Shine
Hair Growth Improvement
To start, when the oil penetrates perfectly into the textures and hair fibres it releases nature's own deep hydrating heavyweight excellent for any type of hair. Coconut oil helps the cuticle retain moisture, acting as a sealant, even helping to preserve any moisturising product previously used, prolonging hydration, smoothing and anti-frizz results. This cuticle sealing effect is extraordinary, especially when combined with hair treatments such as the well-known Coconut Liss Brazilian Keratin Protein Smoothing Treatment. The result will always be smoother, fully hydrated hair with a natural shine.
When coconut oil is applied to the scalp, directly or through products and treatments containing coconut oil, it moisturises and removes any build-up around the hair follicles which directly accelerates hair growth, prevention of hair loss or breakage and protection of healthy hair.
A study by the National Library of Medicine opined that coconut oil was the only oil found to reduce the protein loss remarkably for both undamaged and damaged hair when used as a pre-wash and post-wash grooming product. Coconut oil is not just a passing trend or a fashion, it holds many benefits for hair and is an essential component for those who want a complete hair treatment for ultimate hair health and beauty.
 

How to Add Coconut and Argan Oils to My Hair Care Routine?
Coconut oil can be applied in several ways, the main delivery being: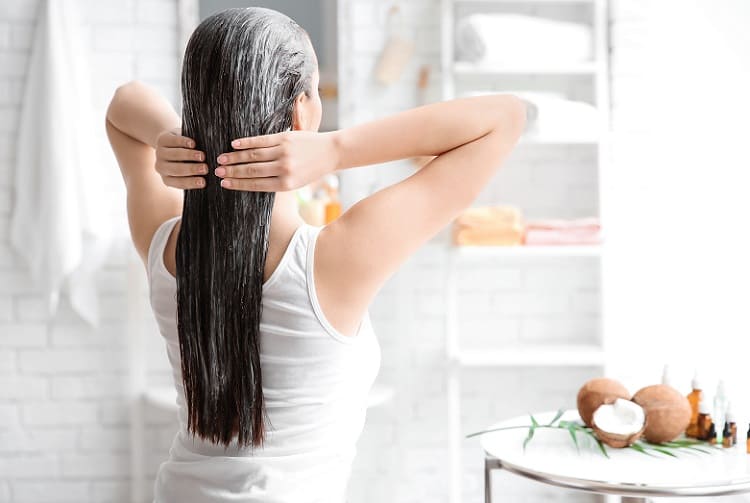 Conclusion
For essential hydration, smooth, protected and healthy hair, using coconut oil is essential. Always choose products that contain real, natural and quality coconut oil in their ingredients like our Coconut Liss collection with Brazilian coconuts straight from the Amazon rainforest to combine the best in technology with organic components for perfect healthy hair. Combining the use of coconut oils during and after a Brazilian Organic Keratin Protein Smoothing Treatment, we invite you to discover Coconut Liss, a professional treatment, developed directly in Brazil, with Brazilian coconut oil, which
Thanks for reading and we wish you a wonderful day filled with coconut oils! 🙂